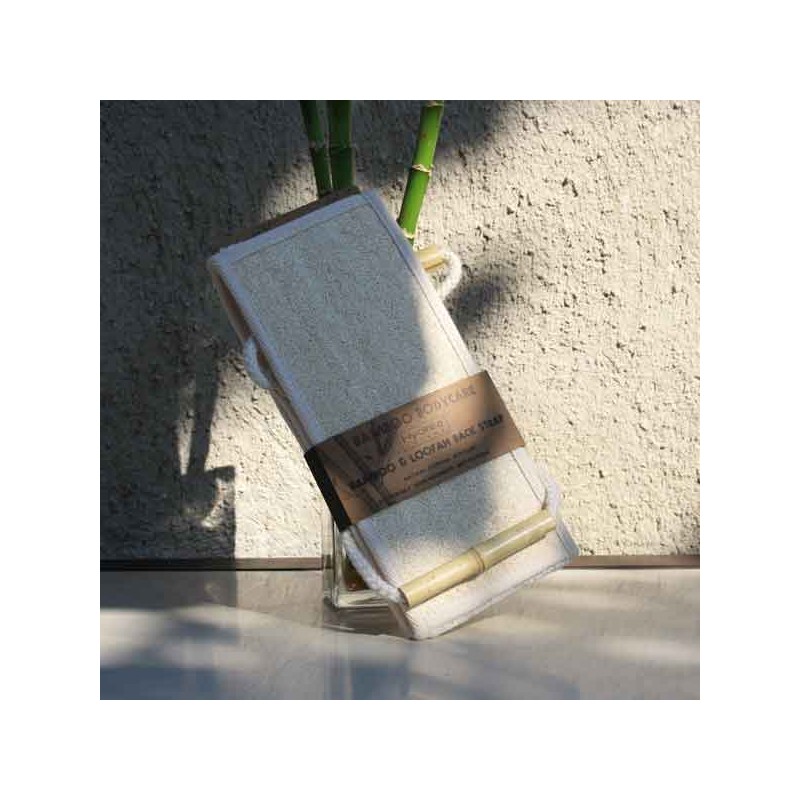  
Bamboo and Loofah Back Strap
Hydrea London
The loofah fiber is perfect to gently exfoliate the skin.
This bamboo and loofah strap is ideal for cleaning, massaging and exfoliating your back, thighs and stomac. You enjoy a moment of relaxation and you get a clean, smooth and firm skin. 
securised payment

livraison offerte en France métropolitaine dès 60 €
COMPOSITION
Tissu Bambou : 60% bambou - 40% cotton

Loofah
Use the bamboo side for a cleaning and soft massage and the loofah part for an exfoliating and tonifying massage.
Bamboo is a natural fiber that gives a soft material feeling like silk, light but very absorbing and durable. The loofah is a natural plant to use as soft vegetal scrub. Its exfoliating properties help to clean in depth, remove dead skin cells and refine skin texture. The massage stimulates the epidermis, detoxifies and regenerates the skin. 
After use, rinse and leave it to dry naturally using the hanging loop.
Depending on the skin type, it can be used every day or only 1-2 times a week.
MORE INFORMATIONS
Bamboos are plants belonging to the Poaceae family. They are characterized by rods made of a hollow lignified culm. A process can change the strong shoots into a silky fabric. As it is a textile fiber growing very fast that comes from a renewable natural source, it is very popular. It is appreciated because it is extremely soft and highly absorbing. Blending it with cotton allows to manufacture an airy and solid fabric.
The loofah is a climbing plant that belongs to the same family as squash, cucumbers, melons or gourds. Loofah Aegyptica fruits are grown to be eaten as vegetables and to be used as sponges. The loofah is cultivated for skincare since ancient times. The fruits used as a sponge are cleaned and dried. Only remains dry fibers. Wet they become flexible and soft to be used as a vegetal and natural gentle scrub.